The PiKoder/USB provides the bases for a PC- or Smart device- (Phone or tablet) based PPM encoding for RC, robots, and drones. This allows you to control your R/C vehicle or robot by a joystick, wheel, keyboard or mouse. The design based on the PIC16F1455 allows for a single chip solution. The PiKoder Control Center PCC with its grafical and intuitive user interface allows you to simply test and customize your PiKoder.
After powering up PiKoder/USB will continuously output neutral PPM16 pulse frames (8 channels with 1.5ms pulses each, 20ms total frame length). Power would be provided through the USB port.
If you wanted to use a Joystick then either a PC or an Android device would be deployed as a gateway. When using an Android device you would instal the Joystick2PPM app which is offered free of charge in the Google Play Store. Additionally you would need an USB hub.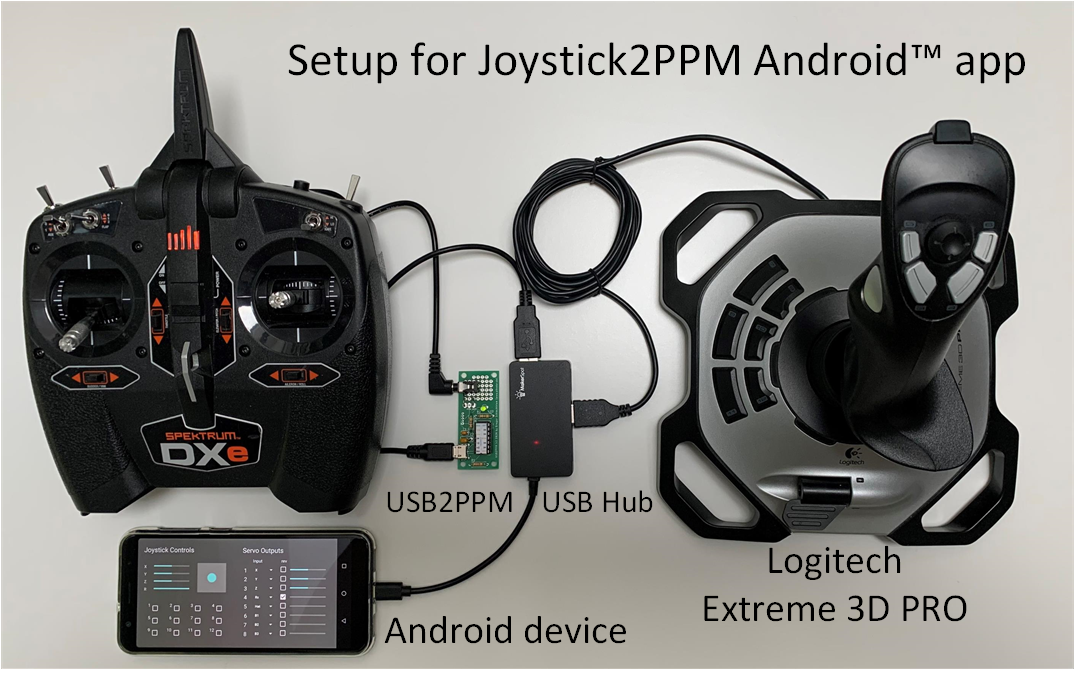 The user interface of the app is intuitive and simple.
To control your model with a joystick form your PC you would use the Flytron Joystick Interface software "Compufly" for standard applications. The user interface is similar to the Android app: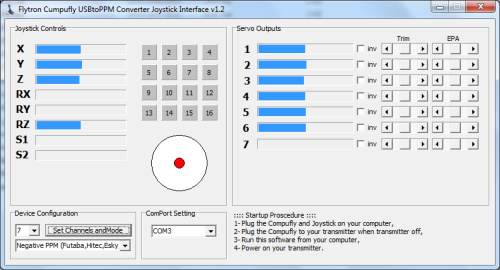 For more complex application needing a higher level of customization you might want to consider the open source Java program Joystick2PPM:
Additionally, the PiKoder/USB does feature an ASCII command interface (ACI). With this, you control your model by simple ASCII-character based commands sent over the virtual COM port assigned to the USB port (parameters are 9600 8N1) by a standard terminal program or your own application.Please refer to the User Guide for more information.
The PiKoder/USB User's Guide describes the operation of the USB2PPM in detail.
This blog describes the setup and application of the USB2PPM for controlling a quadrocopter.
This application allows quite some level of customization. The source code is provided through the github repository Joystick2PPM.