The PiKoder/USB provides the bases for a PC- or Smart device- (Phone or tablet) based PPM encoding for RC, robots, and drones. This allows you to control your R/C vehicle or robot by a joystick, wheel, keyboard or mouse. The design based on the PIC16F1455 allows for a single chip solution. The PiKoder Control Center PCC with its graphical and intuitive user interface allows you to simply test and customize your PiKoder.
After powering up PiKoder/USB will continuously output neutral PPM16 pulse frames (8 channels with 1.5ms pulses each, 20ms total frame length). Power would be provided through the USB port.
If you wanted to use a Joystick then either a PC or an Android device would be deployed as a gateway. When using an Android device you would instal the Joystick2PPM app which is offered free of charge in the Google Play Store. Additionally you would need an USB hub.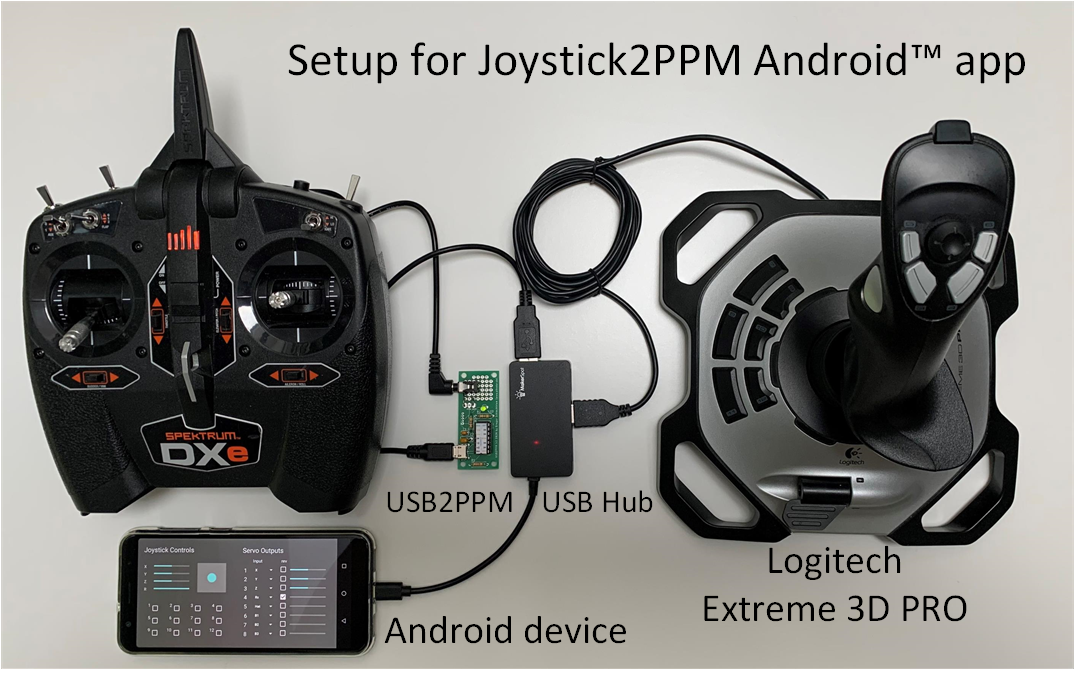 The user interface of the app is intuitive and simple.
To control your model with a joystick form your PC you would use the respective Joystick2PPM Windows app. The user interface is very similar to the Android version.
The program connects automatically to the USB2PPM and the first joystick found on your computer. Your configuration will be stored when ending the program and would be reloaded when restarting. Starting with release 1.1 the WIndows version offers a switch function for the joystick buttons. You would select a button for a channel and check the "sw" box to turn the button into an on-off-switch.
The app Joystick2PPM is available free of charge in the Microsoft app store.
The PiKoder/USB User's Guide describes the operation of the USB2PPM in detail.
This blog describes the setup and application of the USB2PPM for controlling a quadrocopter.